Liberian Based In The Diaspora Wants County Meet Modified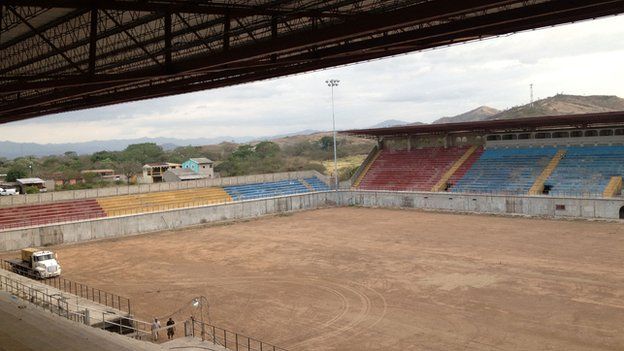 The stadiums will not just be used for football games but also for concerts and other events 
By Sylvester Worwee
A U.S-based Diaspora Liberian, Toyuwa Harris has recommended that the government of Liberia do away with the old methods and take on a new approach that will accelerate the country's sports development agenda.
This suggestion was made the Fabric Radio Weekend Sports show while speaking on the issues that exists and the constraints for the upcoming national County meet, Mr. Harris expounded on his Idea.
Instead of wasting US$ 500,000 tax payers' money each year to stage the annual National County Sports Meet that has failed to yell the needed results, he has recommended to the government of Liberia do away with the old method and be more aggressive in enhancing our sports development.

Mr. Harris said the County Meet will not thrive unless sports facilities across the country are standardized. In some counties, there does not even exist a valid football pitch, and Gyms for basketball and volleyball do not even exist in multiple areas.

In this light, the sports pundit is suggesting to the government to rotate the County Meet on a yearly basic among the 15 sub-division of the country.

Mr. Harris, who is the proprietor of liberiasoccer.com, one of the oldest Liberian based websites and the oldest Liberian sports outlet on the World Wide Web further recommended that a special package and the annual County Meet budget be handed out to the host county to fund infrastructure projects such as stadium, hotels, roads among others.
Building Stadiums in the political capitols of the counties will decentralize sports development and also enhance the economies of the areas.
"We are presently taking the Independence Day Celebrations from county to county in the name of Development. Why can't we package that with the national county meet and build Mini Stadiums and Gyms all over the country" Mr Harris noted. 
Marketing the Stadiums by selling the naming rights can help augment to costs which will help in the funding of this program.
" Let's Think out of the box" Harris Said. Think about an "ArcelorMittal Stadium" in Bassa or Nimba? That is how stadiums are now funded the world over. Not only by public funding but also private funding from the naming rights sale.

"We need to take sport development serious in our country.

"As old as the Liberia is, we cannot boost of a standardized pitch except the one Samuel kanyon Doe Sports Complex which is currently under renovation.

"So in taking the County Meet to the counties, we will also be taking development to the counties apart from setting up sports infrastructure in the sub region," the Liberiasoccer.com editor stated.